Add Life & Better Performance To Your Batteries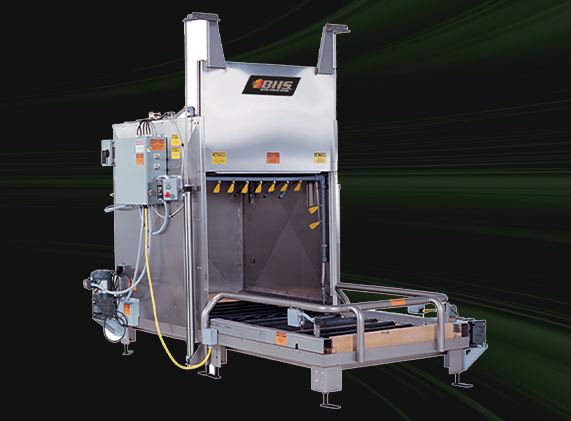 There are many factors to review when selecting a battery wash system for your operation.  One of the biggest factors in selecting the product with the greatest ROI is the size of your battery fleet. Businesses with high-volume applications can save time and staffing hours by installing a Battery Wash Cabinet.  These stainless steel, enclosed systems are adjustable and can be set for automatic washes.  We carry a wide variety of BHS Wash Cabinets.  Our BHS Wash Cabinets have lower operating costs to save you time and money.
Recirculating & Neutralization Water System
When batteries are cleaned, the water used becomes contaminated.  To comply with the EPA policy on disposal of this wastewater, we recommend using a Recirculation & Neutralization Systems (RNS) with your battery wash system.  The RNS system, by BHS, reduces the output of contaminated wastewater  through filtering, controlling, and recirculating water used to clean batteries.  The RNS system allows you to reuse wastewater with a closed-loop system.  Allowing you to complete multiple washes with the same amount of water.  Saving your time, money and disposal fees.
Looking to increase performance and lift of your battery?  Consistent removal of corrosive residue from forklift batteries is the solution. BHS Roller Wash Stations (RWS) will provide a contained yet convenient location to wash this electrolyte from your battery.  Whether you have a boil-over, spill, or leak, this 48-inch station can be used to remove the corrosion of your battery.  The RWS is designed to work with the RNS system or to be used on its own.
We also carry BHS Hardwood Wash Station.  These wash stations are similar to the RWS, however, they are acid-resistant, non-conductive, & environmentally free.
If your battery fleet needs a vertical or side-extraction washing station, the BHS Mobile Wash station is for you.  These wash stations are EPA compliant, extremely durable, corrosion resistant, and mobile. Mobility provides you and your team the option to carry the wash station throughout your operation.  Creating less downtime and safely cleaning your battery fleet.  We carry multiple models of mobile wash stations to help meet your needs.  
See how we can Keep Your Equipment Moving FOrward.